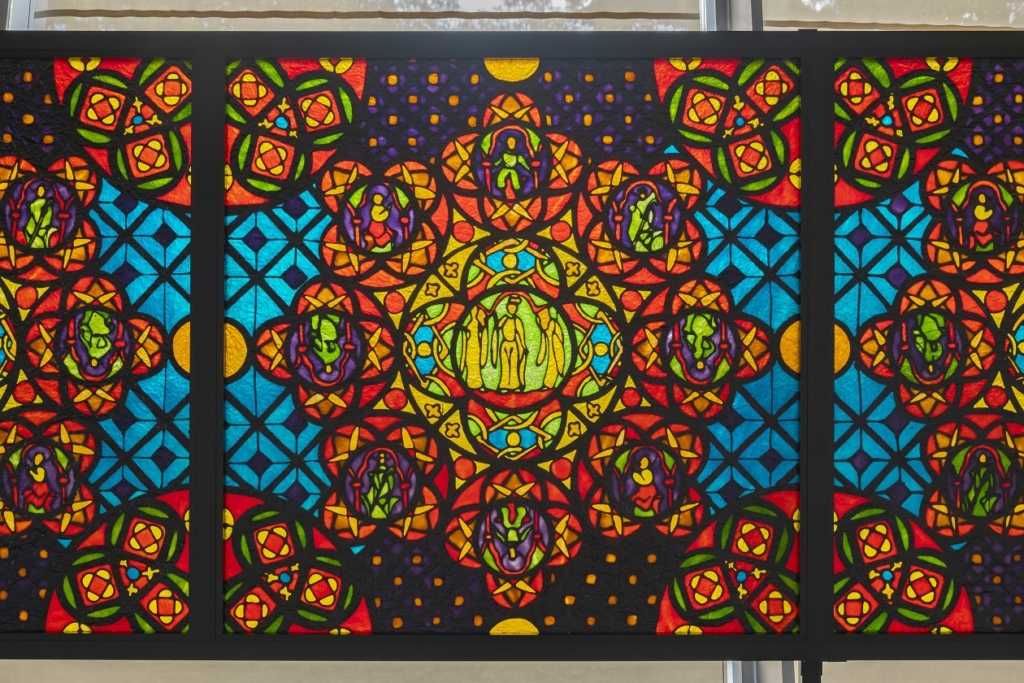 ーA coffee shop in the basement, I heard it was a familiar place.
"It was a place where customers would ask, "If that seat is taken, can I move? A couple of years before I closed the coffee shop, it started to be featured on Instagram. High school students and young people in their twenties would come and take pictures at the stained glass table.
What is the origin of the name of your coffee shop?
My father wanted the name of the restaurant to be something that could be expressed in two Chinese characters.
"寛(Kan)" means relaxing and spacious. "山(Yama/Zan)" means a mountain of customers.
-The stained glass is impressive. As you mentioned at the beginning, it must have been a popular seat for all ages. How was it made?
I know that I ordered it from a company in Fukui. Unfortunately, we still don't know which company it was ordered from, and we don't know what it was modeled after.
My father says from that company, "Do you need stained glass?" "Are you in a coffee shop?" "Do you need three pieces? He told me.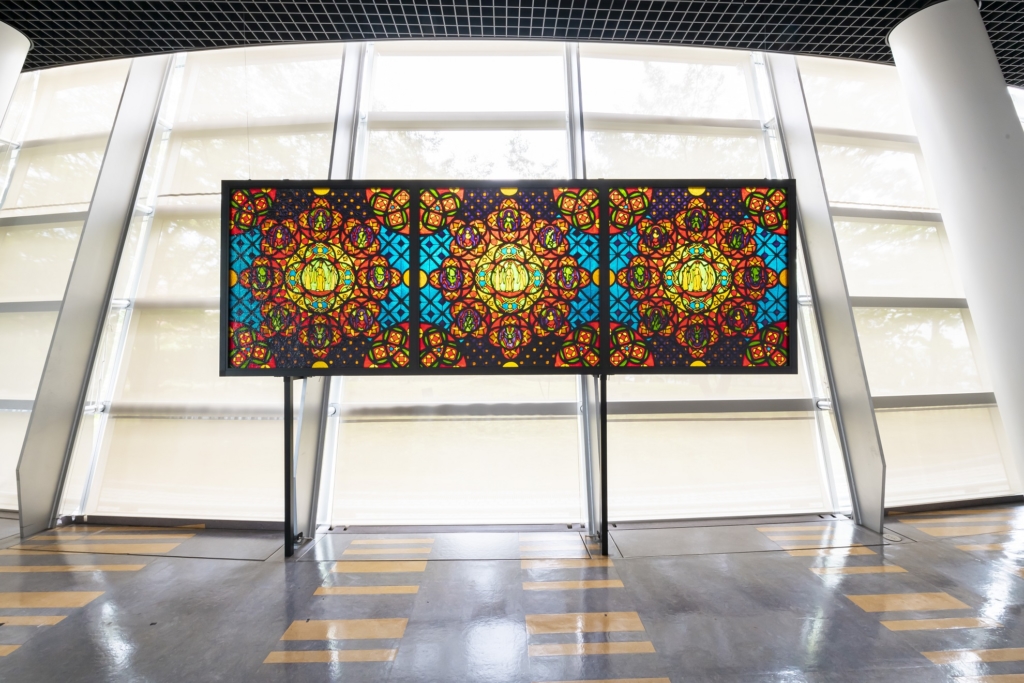 -You have decided to close your coffee shop . I'm sure someone wanted the stained glass.
Yes, of course. I received calls from people outside the prefecture who wanted to sell them.
-Why didn't you give them away?
It would be useless to keep them in my house. I wanted it to be in a place like a museum if possible. I wanted to be able to take a photo in front of the stained glass. I wanted to be able to take pictures in front of the stained glass windows, because I thought it would be more enjoyable for the regulars and more people.
-Do you have any memorable moments or memories of operating a coffee shop?
When it was time to close the store, we would play the closing music. However, there were customers who did not leave even after the music was played. They would listen to the music and say, "What good music is playing!
-You were providing a very good time for your customers. I can feel it from the episode. Thank you very much for your story.
Fukui City Art Museum (Permanent collection)
Address: 3-1111 Shimouma, Fukui City
Phone: 0776-33-2990
Open hours: 9:00-17:15 (admission until 16:45)
Closed: Mondays (or the following day if Monday is a national holiday), and the day following a national holiday (except Sundays)
Admission: [Permanent Exhibition] General admission, 100 yen for university and high school students; free for junior high school students and younger, those over 70, and the disabled.
Kanzan's stained glass is located in the exhibition space of the permanent collection.
http://www.art.museum.city.fukui.fukui.jp/