–Please tell me about the process by which you went from high school to the Faculty of Education at the University of Fukui.
I was in my third year at Wakasa High School (Fukui prefecture, Japan) when I decided to go to the university. I was enjoying the freedom of creation those days. For me, it was interesting to paint watercolors.
Therefore I attended a drawing class at the university. I thought to myself, "I want to draw and paint here," and that's when I decided to apply to the university.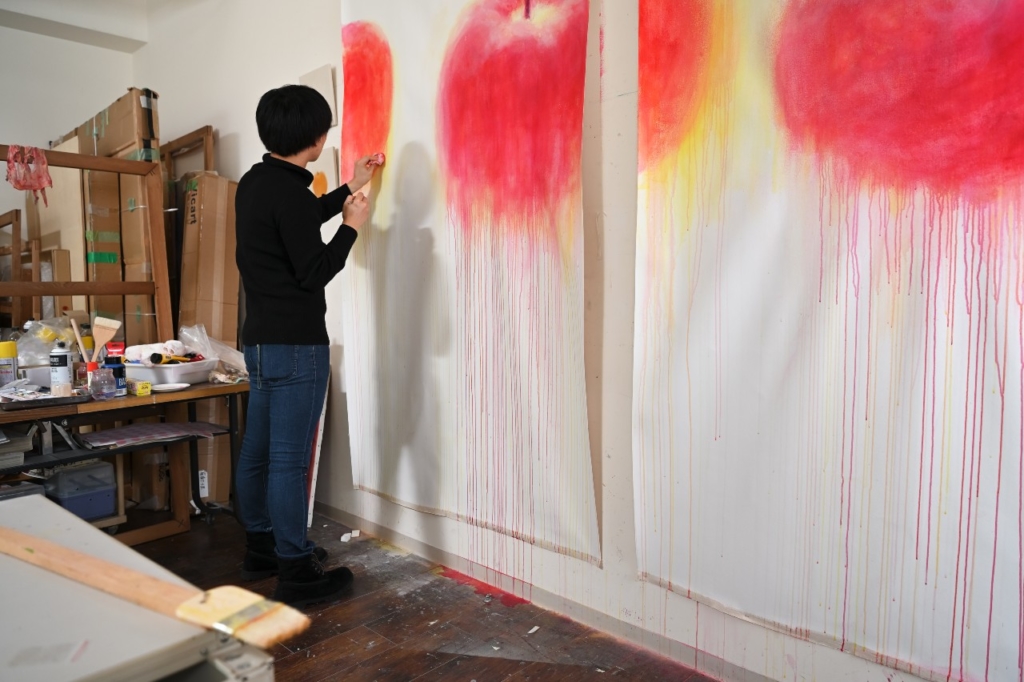 -Why you chose the fruits as motif?
I was attracted to fruits that are not thorny. Shining a light on a fruit, I can see colors and shadows. The combination of several fruits (apples, peaches, pears, etc.) that I drew at first gave me a formidable feeling, and I decided to use fruits as motif.
-Could you tell me a little more about relationships of fruits and you?
Fruits are available in common markets and have a universality that can be found anywhere at any time. Those are born in somewhere and growing up in somewhere, too. I felt as if the fruits contained my own hidden feelings. It is also something that is simply comfortable to draw.
-Because fruits are living things, doesn't it rot during drawing processes?
Yes, that's right. Some works take four months to complete, so they do rot. At that time, I draw them in my memory. I've had people say to me, "Why don't you draw the decay?" or "Why don't you draw it rotting?" But I don't want to draw the rotting.
-What are your processes of drawing fruits?
First, I draw the outline roughly, and when it dries, I add more colors on top. I like the way the colors shimmer. I like layering light colors to make the colors hazy and transparent.
In the case of drawing to the canvas, it becomes one tone darker. But the colors become to dry, they become lighten.
I use acrylic paints as my painting medium. For painting apples, I use a lot of red, so I buy up all the paints at the art supply store (lol).
–I can see the paint dripping from the apple, can't you? I thought it would be nice if it bled out. How about?
I thought it would be nice to have it ooze out, so I sprayed water on it to make it drip on purpose. I rubbed it with gauze and applied dots on top. Because there is so much blank space I added the many dots for my pleasure.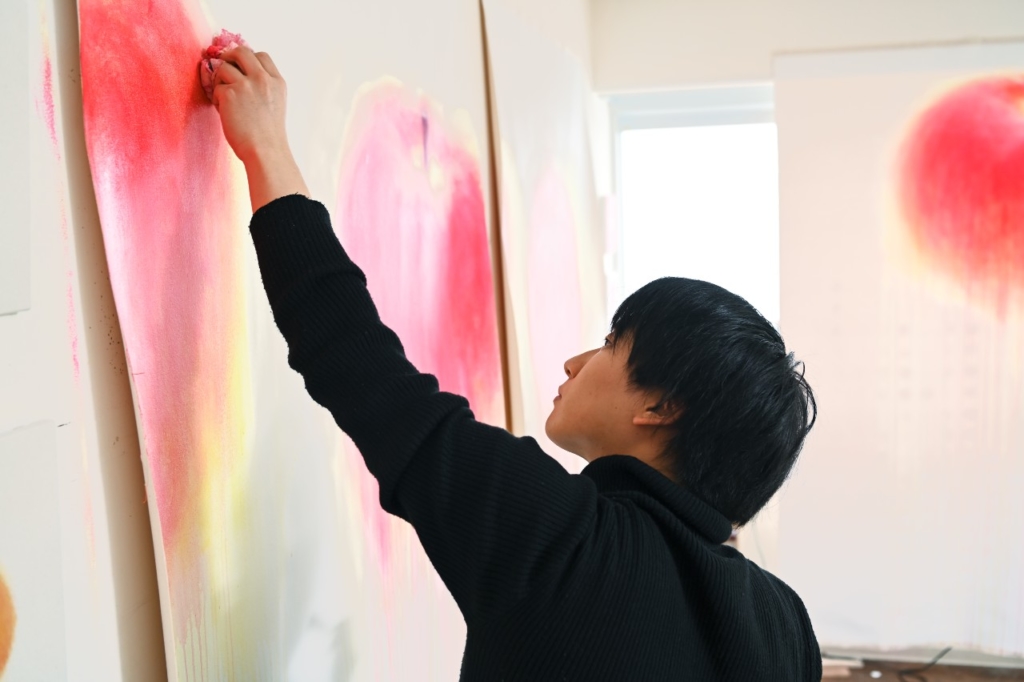 -Why do you not draw fruits clearly?
Because I wanted to create the "filtered" impression that I look at fruits.
People like to admire outlines (appearance). But there are actually universal things that are scary to look at just from their outlines. I put the message.
-You draw fruits in large sizes. I think it is one of the features of your work, don't you?
I want to make works that the viewers can smell. I want to make works that conveys the smell. In small works, fruits themselves stand out, and their presence come out first. With large paintings of fruits on a large canvas, I want the viewer to feel a smell that is not there.
-In February 2022, you will have another opportunity to present your work. Good luck with your work. Thank you so much for taking the time to interview.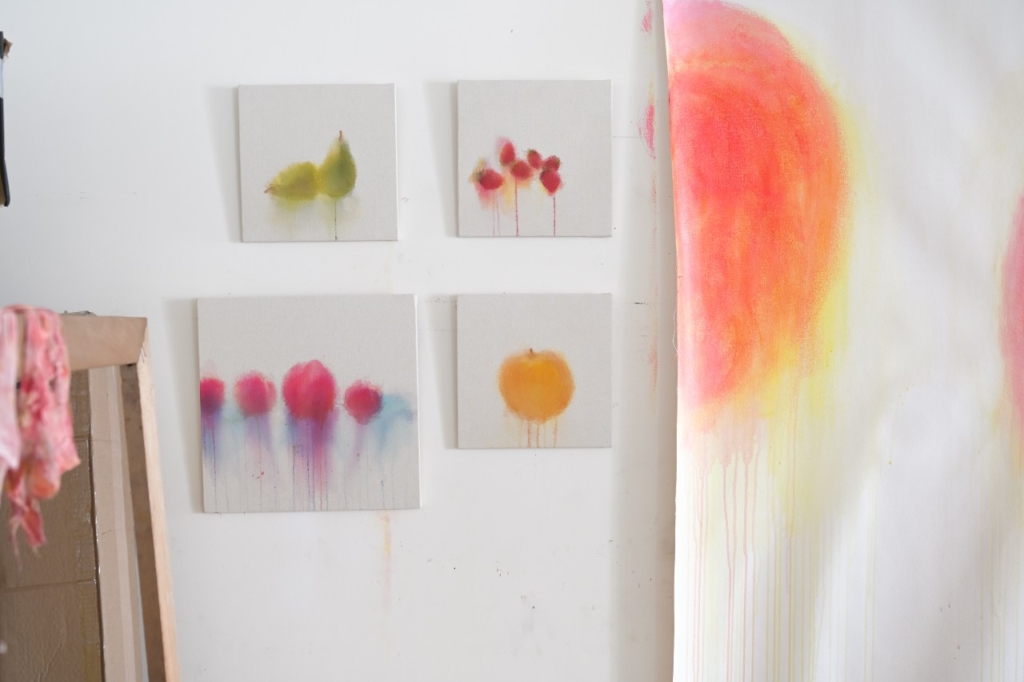 福田裕理 (ふくだ・ひろみち)FUKUDA Hiromichi
https://www.instagram.com/fukuda_hiro…
Born in Obama City, Fukui Prefecture Japan.
After graduating from the Faculty of Education at the University of Fukui, entered the Graduate School of Teaching at the same university.
History of Exhibitions
Fukui City Art Museum (Fukui city, Fukui pref. Japan)
Fukui Prefectural Art Museum (Fukui city, Fukui pref. Japan)
Restaurant Jardin (Fukui city, Fukui pref. Japan)
Sabae City Manabe no Yakata (Sabae city, Fukui pref. Japan)
Kumagawa Shuku Wakasa Art Museum (Wakasa town, Fukui pref. Japan)
Community Center Nabiasu (Mihama town, Fukui pref. Japan)
and more.