In Katsuyama City, Fukui Prefecture, Japan, there are two houses designed by architect ISOZAKI Arata. One of them, "Nakagami-tei," was opened to the public. This article is a report on the event.
The house is made of concrete and features a round roof. he asked to himself, "Can we incorporate a sphere into a three-dimensional space? What kind of effect will the sphere have? And can a building with a sphere in it be a house?" The house is a practical application of his thinking.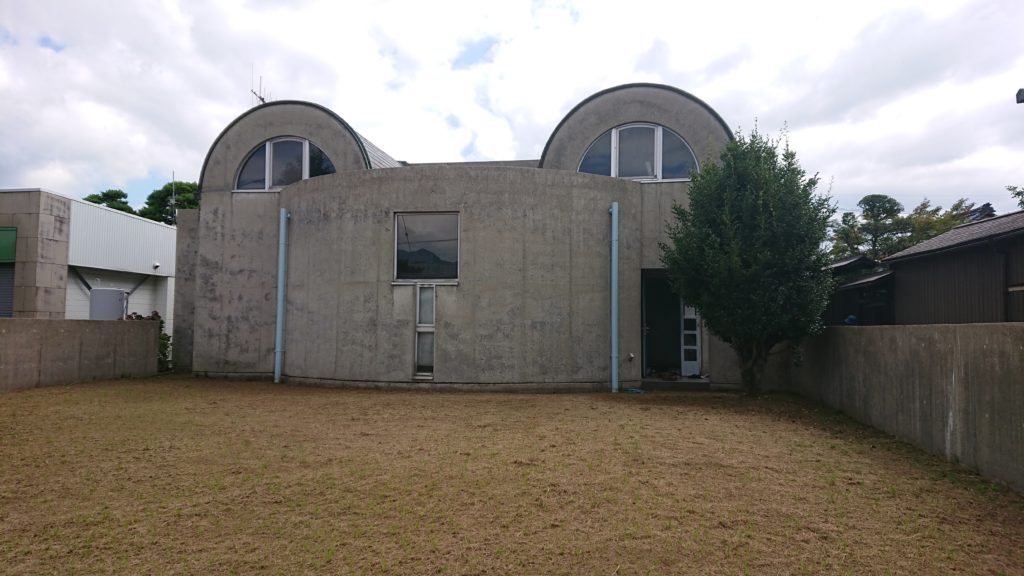 The majority of the house is occupied by a space commonly known as "Isozaki Hall". It was used as a gallery. The curved walls are pre-installed with fixtures for hanging pictures. The fixtures are decorative and well-designed. The structure does not disturb the viewer's perspective.
The first floor consists of a kitchen, living room, and Japanese-style room, and is suitable for two people. There is also a clothes-drying area.
When I viewed this house, I felt "it's easy to live in!"
It is often said that "architect-designed houses are difficult to live in," but the structure of this house dispels this myth.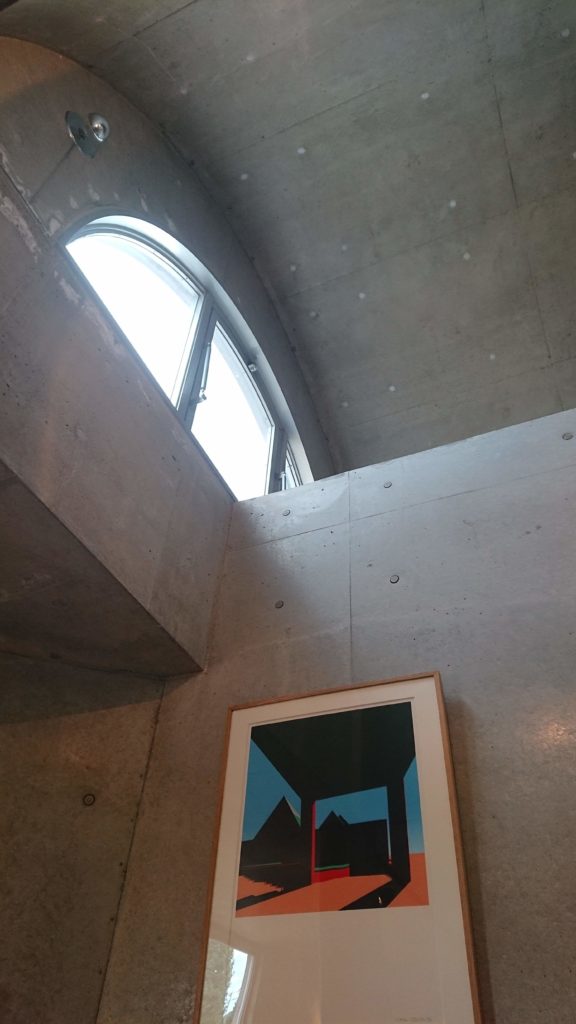 Here is an explanation of the relationship between the client, the NAKAGAMI family, ISOZAKI, and their house.
Nakagami was a former doctor and a well-known art collector.
Details of his private life will be withheld.
The client, NAKAGAMI's wife, ordered "a large space to look at the paintings and talk about them," and "so much so that I don't need a kitchen." Her words moved ISOZAKI's heart.
However, the client was not so much concerned as to say, "Ohno (i.e., the city next to Katsuyama City) gets a lot of snow, so I think concrete would be better instead of a nice wooden structure.
On the day of my visit, there was a special event. There was a screening of the documentary film "Inside Architecture -A Challenge to Japanese Society" (2015) and a discussion "Talking about ISOZAKI's works". The venue was the restaurant "Kagetsuro" in Katsuyama City.
The film was a re-edited version of the one shown by filmmaker ISHIYAMA Tomomi at the Japanese Pavilion of the 14th International Architecture Exhibition of the Venice Biennale (2014).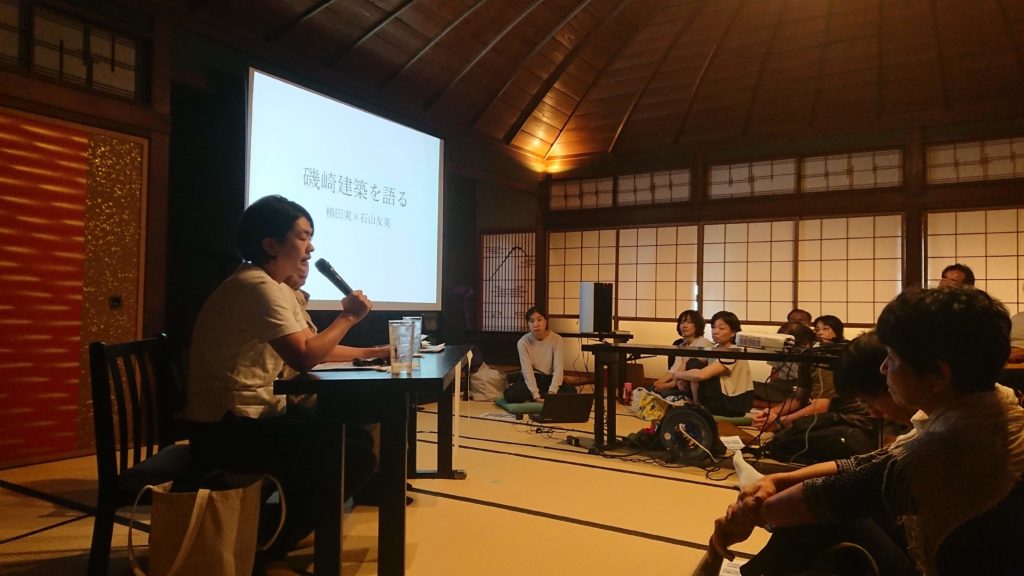 In that film, architects such as ISOZAKI Arata, ANDO Tadao, ITO Toyoo, Rem KOOLHAAS, Philip JOHNSON, and Charles JENCKS talk about contemporary Japanese architecture.
That film should be seen as both an interview film and a critique of contemporary Japanese architects around the early 1990s (often referred to as the pre- and post-bubble period in Japan).
Today, buildings are constructed without architects. How do architects contribute to society? In the film, shocking statements are made by architects who know the frustration of the social position in which architects find themselves.
Architects are apparently being asked to play the role of "facilitator" in creating communities and entering into communities. The film suggested that there is no demand for an overwhelming architectural presence as there once was.
UEDA Makoto, who participated in the talk session, is an editor of a housing magazine. He has interacted with ISOZAKI, ANDO, ITO, and other architects who appear in the film.
He talked about the transition of ISOZAKI's work with slides. The explanations were easy to understand and I would have liked to hear more about the talk.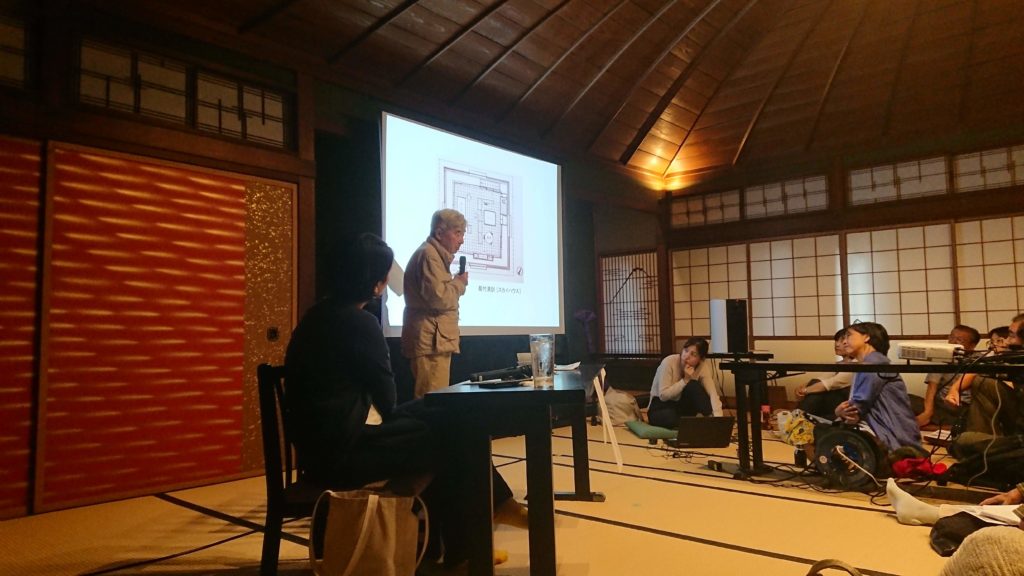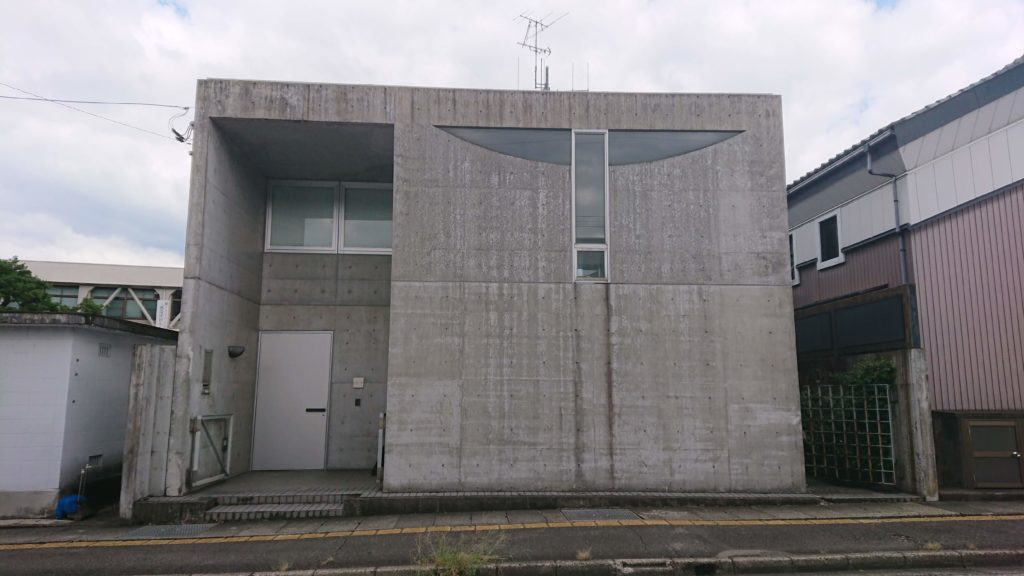 It was unfortunate that "S-tei," another residence Isozaki worked on, was not shown to the public. It is unavoidable because it is a private residence and the owner has his own wishes.
However, the number of houses Isozaki has worked on is not large. The fact that two of them are located in Katsuyama City is a source of pride for Fukui Prefecture and its people.
There are various critiques and evaluations of what Isozaki has done in the history of architecture in the 20th century. This is true both within and outside of Japan.
The fact that there are two houses designed by ISOZAKI in Katsuyama City will support the next generation of architects in understanding the proof and transition of Isozaki's architectural philosophy. I felt strongly about this.
ISOZAKI Arata's works from the Nakagami Collection
September 13-16, 2019
10:00-19:00
Admission free
"Nakagami-tei" Isozaki Hall (1-9-45 Motomachi, Katsuyama City, Fukui Prefecture)
About 30 watercolors, drawings, prints, etc.
Models, drawings, etc. of Nakagami Residence Isozaki Hall
That event has ended.