Do you know a performance called live painting that shows the painting process in real time? We can see it at various events in Fukui, Japan.
NISHINO Kain is a live painting artist based in Fukui, Japan. She expresses her life through it. Live painting is a non-redrawing technique. I interviewed her about her feelings for that.
I want to paint a picture that resonates with people who live in "morbid modern age"
I was attracted by your red hair. What is your policy for dyeing your hair red?
Red is often used as the color of the main character in children's TV programs in Japan. The "Precure" series is a typical example. I feel that red is strong because of the color of the main character and looks like it will win.
I also like the beauty of green and blue, but I decided that I would wear red. I am 18 years old now. It's been three years since I started dyeing my hair, and recently I redye my hair once a week.
Did you start painting when you started dyeing your hair?
No. At that time I was in the third year of junior high school and I was performing as a singer. At events held at live music clubs in Fukui Prefecture, I sang anime songs.
After that, there was no offer for a while. One day, I remembered that I liked drawing pictures as a child. So I exhibited my work at an exhibition held in Tokyo. Because I had an instinct that many people wouldn't see it in Fukui.
I exhibited my work in Tokyo and Osaka. Then, the original pictures were sold at high prices at both venues. I felt "Maybe I can make more money from painting than singing." and decided to take a break from singing.
After that, I heard that there was live painting events in Fukui. I have many acquaintances in the events.
How was the exhibition decided in Tokyo and Osaka?
Painters often post their work on Twitter. I was one of them, and through Twitter I happened to meet a staff member of an exhibition that was open to the public. The exhibition was a collection of rather grotesque works.
My work also has a grotesque style. So I thought, "my work fits the concept of the exhibition." and applied. Then I was fortunate enough to be chosen as one of the exhibitors.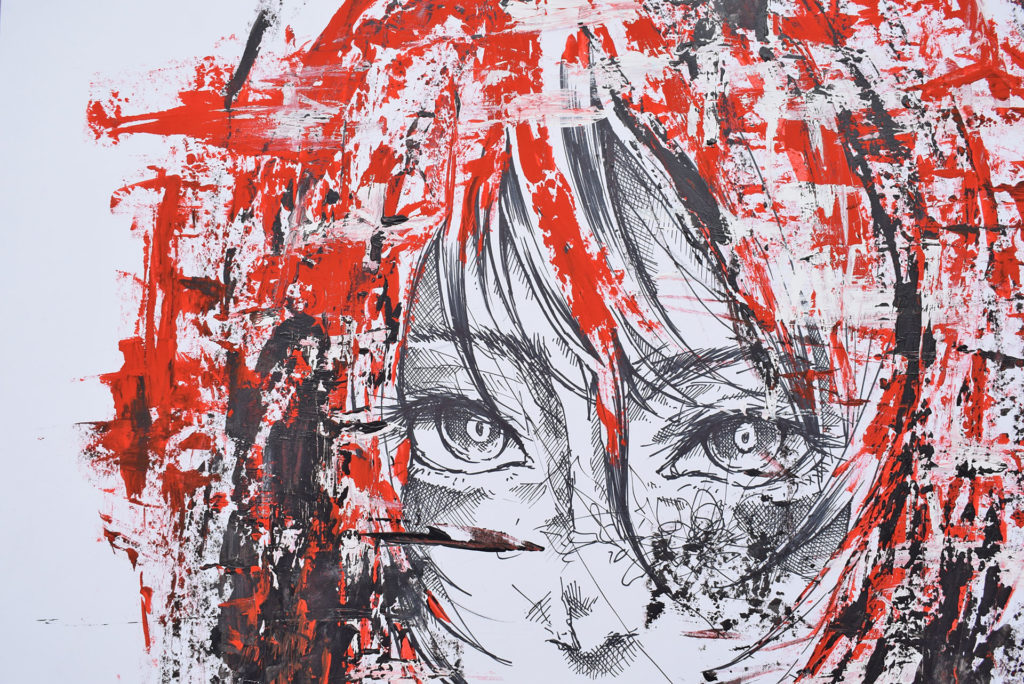 You called your style "grotesque". What was the original experience that created the style?
I'm not good at positive style. Most artists now say, "Let's have hope." and "The effort is rewarded.". Don't you think so? I think it's because the audience wants that message. However, I am not good at positive style and message.
I think everyone is having trouble communicating with people because of the spread of SNS. Do you know that young people don't like talking with phones? They rarely make phone calls and tend to avoid face-to-face communication as much as possible.
There are many cases of insidious bullying using smartphones, and many people are suffering psychological damage.
I often feel that modern society itself is suffering psychological damage. So I decided to draw pictures that would resonate with the younger generation living in such a society. It doesn't suit my way of life to paint bright pictures because positive messages are needed. That made my style grotesque.
I was surprised by your answer, "I don't like bright pictures.". Because your red hair had a great impact on me.
Of course, the audience's reaction to my work varies. I just don't want to send out messages of encouragement, and I just don't want to paint bright pictures.
I was not good at the space of school since I was an elementary school student. And I didn't like what the teacher said or the rules set by the school.
I think everyone has such a rebellious period. So I want to use my paintings as a medium to evoke memories of people who see my works.
I would be happy if people who have become adults and have to live in a stereotypical way can sympathize with me and say, "Actually, I want to be free.".
You may say that my appearance and work are in contrast. But I think they are consistent in that "assert one's mind". As you say, the way of expression is contrasting and the direction is different.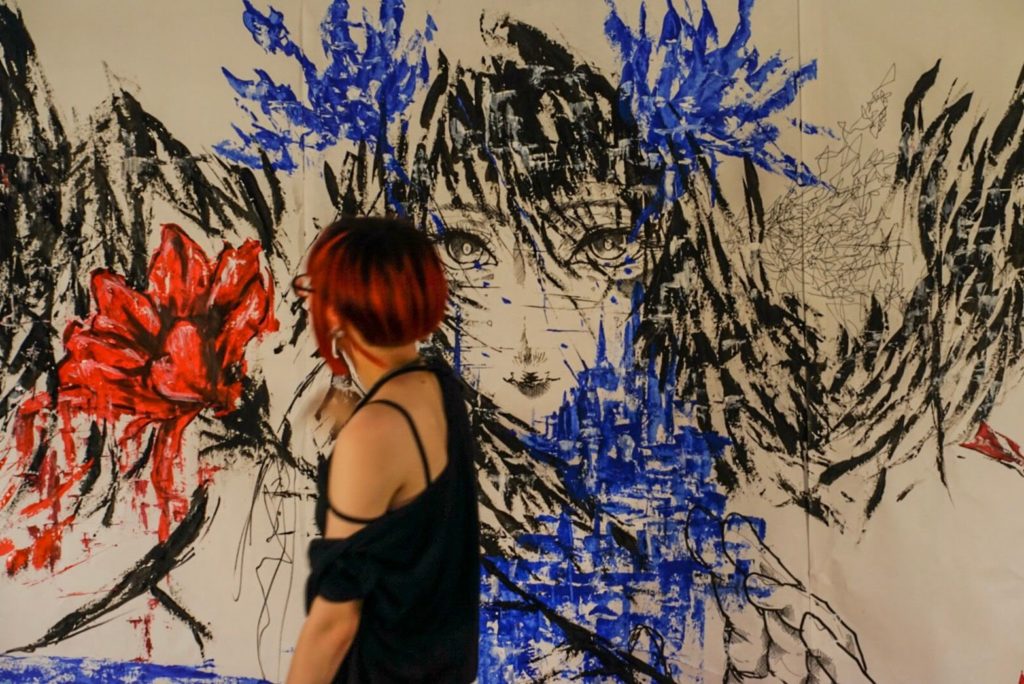 I only prepare the one-way bus ticket and the drawing materials to draw on the street.
I have the impression that you are doing a lot of live acrylic painting activities. However, there is a pen painting you drew on your Instagram account. Do you use a pen outside to draw with precision?
When I draw a pen painting, I take my time at home. Because live painting and working at home are completely different. I also think it's more satisfying to draw slowly at home.
However, I would like to emphasize that live painting is not done roughly.
How long do you draw on average a day?
I always work at my desk for more than an hour a day. I sometimes work from the morning till night. I don't feel tired when I'm painting. When I sing, I get tired and sometimes end up saying, "That's all for today.".
When I draw, my brain gets excited and I don't feel tired.
Even before I started my music career, I always drew pictures as if it were a matter of course. So I've never felt uncomfortable about it, and not drawing is rather stressful. I have a routine of going home, taking a bath, and going to my desk after dinner.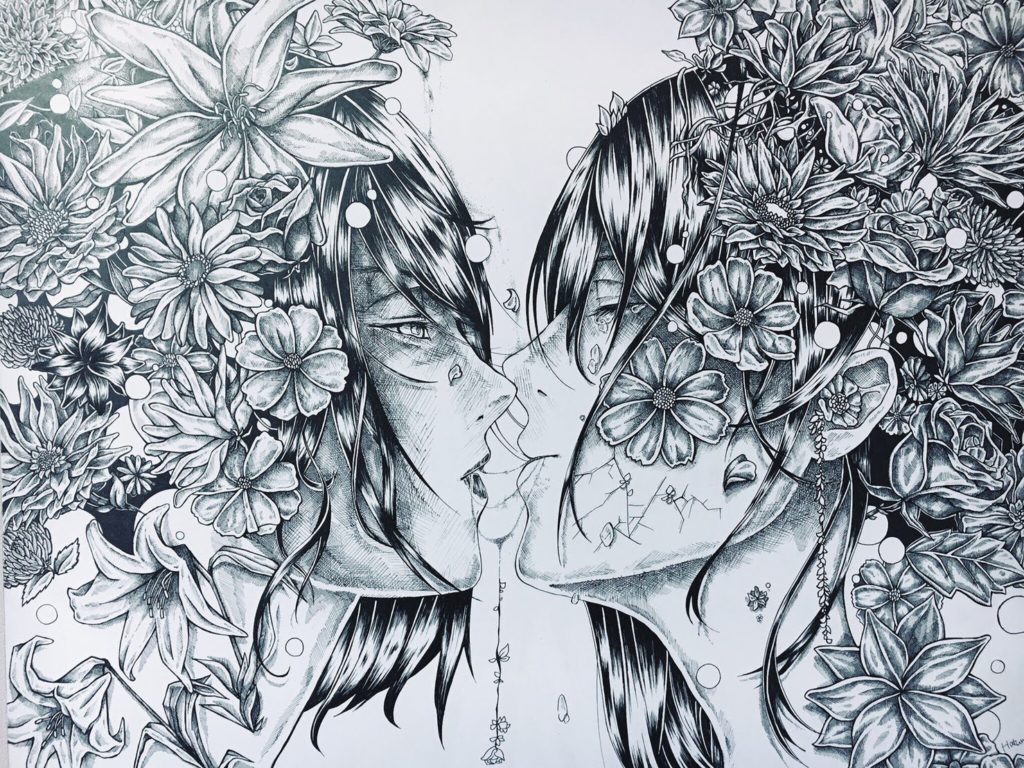 As for my musical activities, I have to inspire myself by saying, "I have to keep going.". But in December 2019, I was able to release my MV to YouTube for the first time, so I felt strongly about continuing my music career.
I imagine you will have real conversations with audiences who sympathize with your work on the Internet. Do you ever feel that they have something in common with you?
When I perform live painting, I often talk to the person who stopped me. I feel it at that time. Some of them are mentally damaged or have doubts about their way of life.
I want the audience to see my own way of life through my work.
I have a past that I couldn't go to school, and now I dye my hair red. I want them to feel that there is such a way of life. I would also like to send them a message that "This is where you belong.".
You might misunderstand me, but I really like myself. I like the look, the fashion, the way I live and the way I think.
So I can say that they are working to attract my attention. What I'm doing may be out of line with common sense, but I don't have many opportunities to be looked at.
There are not many fans. However, the number of people who come to see live paintings from far away or buy paintings every time is gradually increasing. I feel like talking to those people.
Where do fans come from the farthest place?
Fans come from Aomori and Shizuoka, when I do live painting in Tokyo.
(Note: The distance between Tokyo and Aomori is approximately 700 km, and that between Tokyo and Shizuoka is approximately 180 km.)
When I do live painting in Tokyo, I only pay for the bus fare to Tokyo and the art supplies, and I have very little money.
(Note: The distance between Fukui and Tokyo is approximately 550 km.)
I arrived there, I wrote "I will do it on the street until I can earn money for the return trip." on my back, placed a speaker on the street, and painted while playing music.
Then, various people talk to me and throw me coins and bills. Some people say, "I will buy it when the picture you are drawing is completed.". I get happy. "The picture sold! I have less luggage!"
Where do you perform in Tokyo?
I often do it in Shinjuku or Ikebukuro. I forgot the donation box when I did it in Ikebukuro before. At that time, there was a person who donated a bag from a convenience store containing tea, sweets and a QUO card.
(Note: QUO card is a prepaid card that can be used for payment at convenience stores, bookstores, and fast food restaurants in Japan.)
I was surprised and said, "There's a QUO card in it!". Because there was no donation box, they was convinced that they had bought a QUO card.
I imagine that the QUO card cannot be used as the bus fare. Wasn't it?
But thanks to Quo Card, I was able to eat dinner. When I perform in Tokyo, I want to live an extreme life.
Since I live with my parents in Fukui, my parents help me and friends around me worry, "Are you okay?". But I also have a desire to stay at the limit.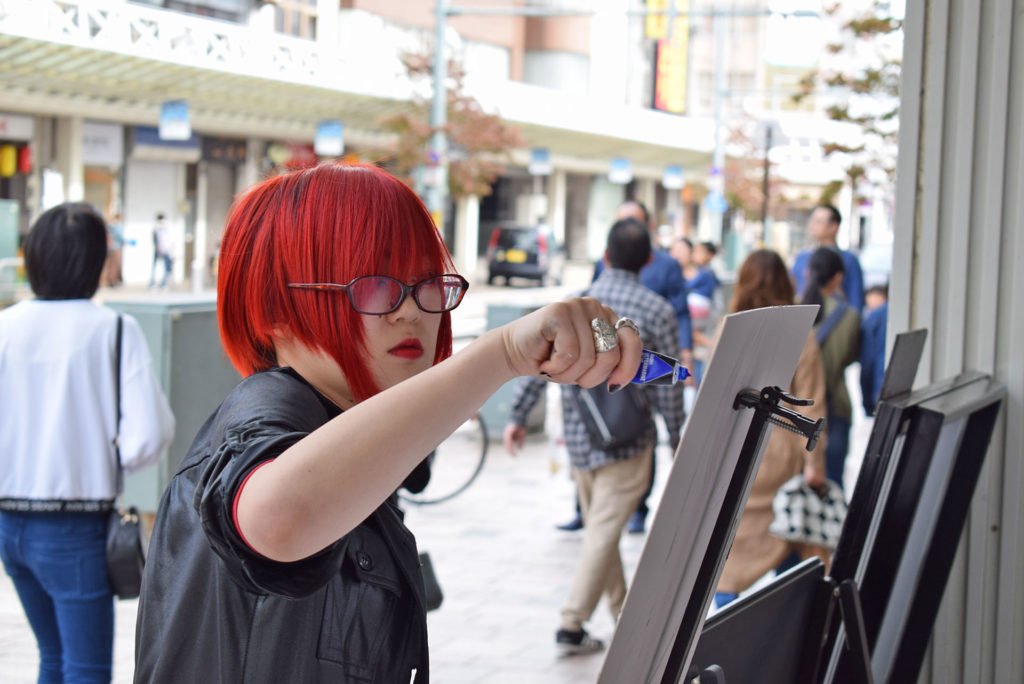 I want to make a town in the center of Fukui by myself.
With the possibility of moving your production base to a big city in the future, are you choosing an extreme lifestyle?
I want to move my production base to the Tokyo metropolitan area in the near future.
In the Hokuriku region, including Fukui, where I live, it is quite difficult to draw pictures with live painting, sell them, and receive donations. I wonder if people in Hokuriku are not interested in buying paintings…
Not only in rural areas, if an artist tries to attract the attention of Japanese people with art, it becomes a practical product derived from painting. Examples include accessories, smartphone cases, tote bags, and T-shirts. I guess they want something to wear.
There may not be a custom to decorate a picture in a room. Don't you think so?
There are many opportunities for foreigners to see my works in Tokyo. Foreigners tend to buy original pictures with autographs instead of goods. They asked me, "Is this a copy? Or original?" and when I replied, "It's original." they said, "I'll buy a painting.".
Foreigners interpret buying paintings as a kind of investment. They seem to have a sense that it's worthless unless it's real. I feel the difference between the sensibilities of foreigners and those of the Japanese who are looking for practical things.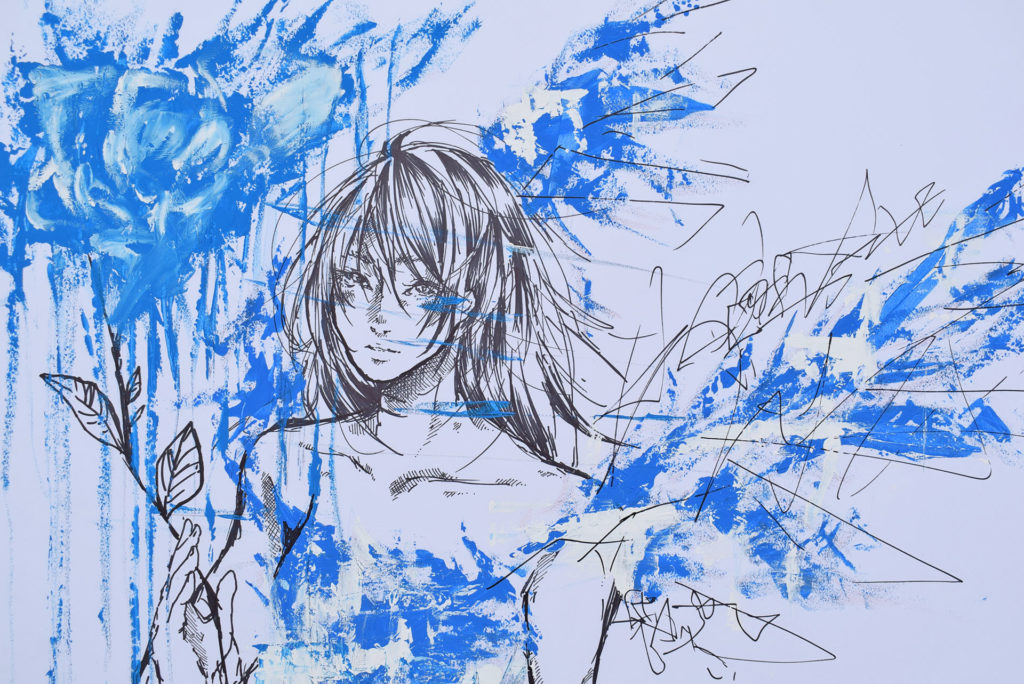 That's interesting. I understand that by going back and forth between Fukui and the big cities, you can see the difference.
The reaction is quite different between Fukui and big cities. Sales and customers are different.
In Fukui Prefecture, elderly women and men stop saying things like, "You are good at drawing.". But in big cities, young people like me who look a little different often stop.
People in Fukui don't talk to me (haha). I want to talk to a lot of people.
Because the hair color looks strong?
No, no, I want you to talk to me (haha).
It sounds like Fukui is dishonest, but I still like Fukui. That's why I want to do a bigger performance in the city of Fukui. As a person from Fukui and involved in art.
Something that can be done permanently, like a dinosaur statue in front of Fukui Station.
Do you want your work in the scenery in front of the station?
It's not that I want it at this point, but if I become more famous.
If I become more famous, I would like to use it to get people to Fukui. I want to be a "If you come to the Fukui Station, you can see a picture of NISHINO Kain.".
I think it is a good move to build a redevelopment building in front of Fukui Station with the opening of the Hokuriku Shinkansen as a target. However, I want to make the town that becomes the face of Fukui by myself.
I want to build "NISHINO Kain Memorial Museum" in Fukui by the time I die. It's a long way off, but I hope it will break out in the near future.
There are people out there who say, "I don't need honor." or "I don't need money." but I still want to be famous in order to gain a voice.
In today's society, we can easily see the power of diffusion in the form of the number of followers on SNS. I think that if my name is known, it will lead to my voice and work.
I want to get out of a tight financial situation and move in a direction where I can get a job.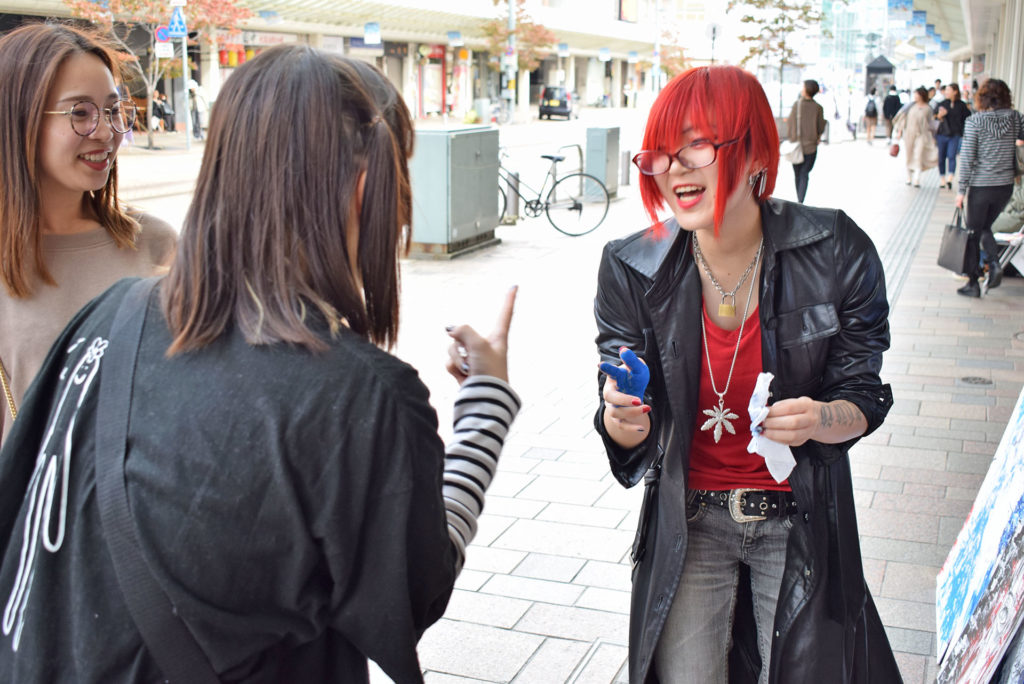 I couldn't draw without SNS.
You said, "voice". Is it based on the feeling that your own activities have not reached the people of Fukui?
That's right. Now, young people of his generation are active in Fukui. It has been picked up in various media. It makes me think, "Wait a minute, don't go!".
Now that I'm 18, to tell the truth, I'm in a hurry.
I was told "The painter of 14 years old is amazing." when I was 14, "16 years old! Young!" when I was 16, and "You're a high school student. wow" when I was 18. But I feel that I can't sell it at a young age anymore.
Age serves as a kind of title. However, as people get older, they cannot sell their youth.
That's why I feel like I'm in the phase of selling myself on my own. I want to be a person who can sell myself in public and sell paintings.
Musicians usually sell in that way. They write lyrics and songs and perform live. I don't think there are many such activities in the field of art.
Don't you wonder why? Because musicians sell songs themselves, they also perform in public. But artists sell paintings, so they don't have many opportunities to appear in public.
Musicians can also add fans by appearance.
The band grows in popularity because of their cool singing and great guitar playing. I think that's why male units with many female fans are selling well. The reverse is also true.
I want to sell myself like those musicians. I don't want to be evaluated only by the pictures, but I want people to listen to me and talk with people who came to see me. I want to be a versatile painter who can do that.
All I have to do is to increase sales (haha).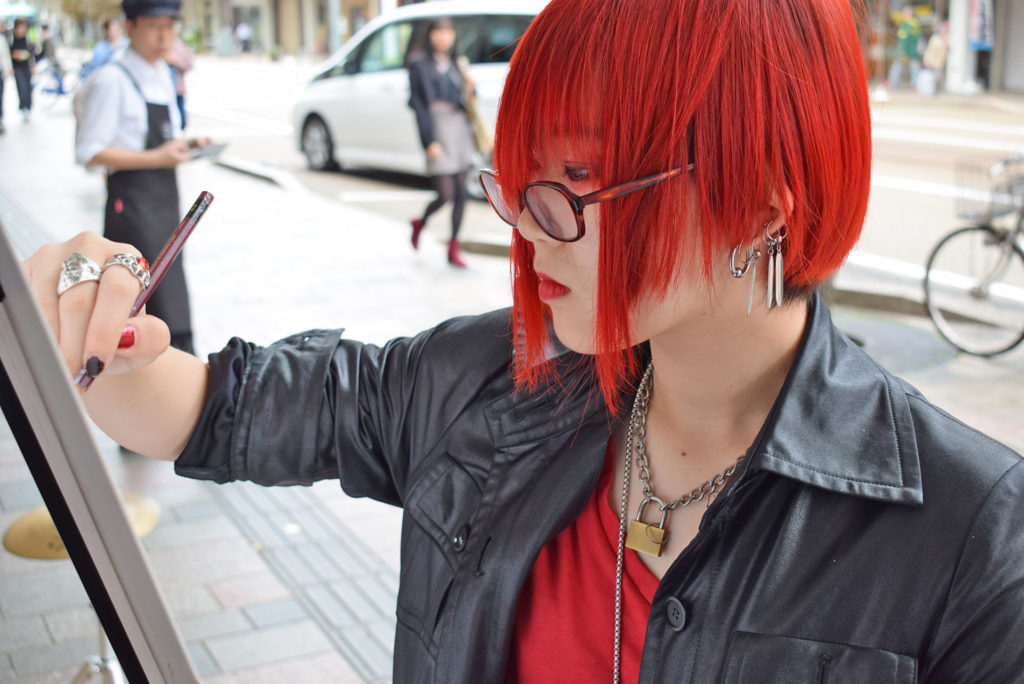 The desire to "increase sales" is very important.
My desire to "increase sales" gradually came out in my mind.
When I started live painting, I just wanted a voice for adults who don't listen to children. … so that when I face adults, I can't dismiss them as "That's a child's opinion.".
I think Japanese people tend to put emphasis on appearance.
So if I, with red hair, didn't sell well, people would think, "She's just playing.". If they had black hair and looked like "straight" they would probably be rated "They're trying to sell.".
I realize that I still need to earn honor to show that I have faith and love for art. It's very frustrating that adults don't listen to me even if I talk to them desperately.
I felt that your creativity was driven by the experience of being told "Because you're a child." and not being heard.
I wanted someone to tell me how I felt, but when I was 14, the only worlds I knew were school and my house. So I had the illusion that I had no real place.
I can't do part-time job and I have no money. Then I can only cry alone. I spent those days.
In my case, SNS was the catalyst for exhibitions and live painting. I can draw pictures because of SNS.
But sometimes I think of a world without SNS. At that time, I thought, "I might not have been bothered by such trifles." "I might not have thought of such a useless thing." and "Maybe I haven't compared with others.".
Today is the time when we can see the activities of cool people living freely through SNS. I think there are many young people who look at SNS and feel depressed compared to their environment. I was.
That's why I want to send a message to those people.
There are some people who come to see it from far away by SNS connection, so I feel that there are signs of a break.
Fashion brands will also be launched soon. I designed clothes and accessories by myself. There are many clothes painted by myself, so I wonder if I can sell them.
As long as there are people who can help me, I want to achieve results. I live a hard life financially now, but I don't want to secure other sources of income through part-time work. I'm afraid I'll quit painting if I do it while working part-time.
There are people who buy my work, which is by no means cheap, or support me by saying, "I hope that Kain will become more famous in the future.". Even so, I think it's very rude to say, "I quit!".
So I definitely want to reach my target destination.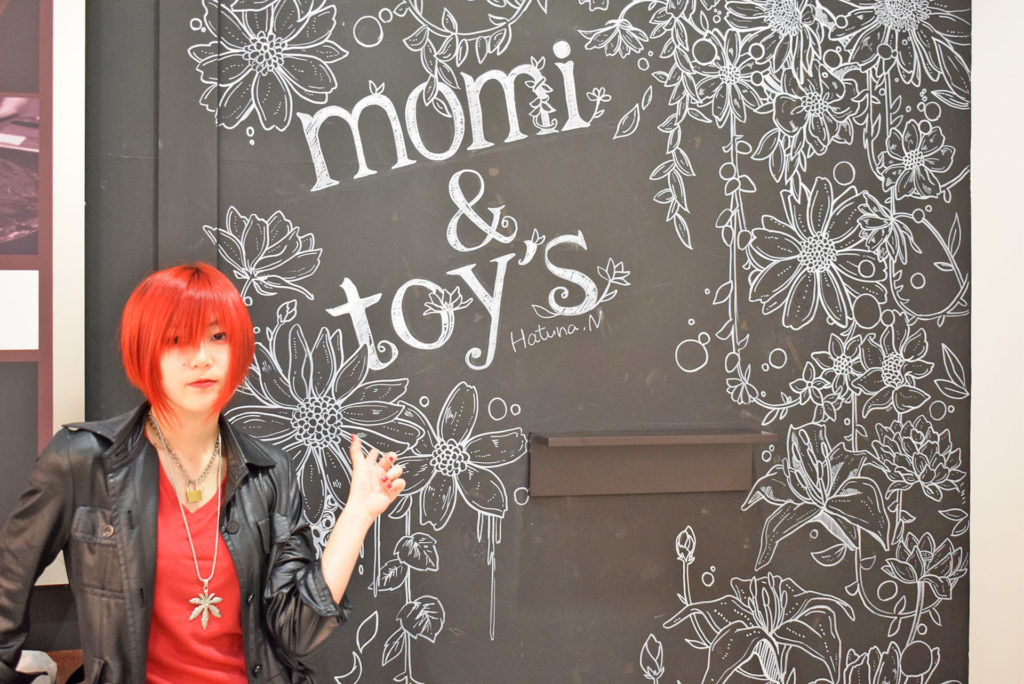 Profile
NISHINO Kain
Born in Echizen-town, Fukui Prefecture, JAPAN
In her early teens, she began working on painting, which is also known as "Hatsuna".
She works on a wide range of activities, including live painting on the streets and at events, creating music, creating wall paintings in stores, and presenting her work on Twitter and Instagram.
Her works are close to the psychology of modern people (e.g. "SNS fatigue") and resonate with people. In December 2019, she released the MV of her song "Mukashi-banashi" on YouTube.
Twitter … @Kain_xoxo
Instagram … @kain827